____________________________________________________________________________________________________________________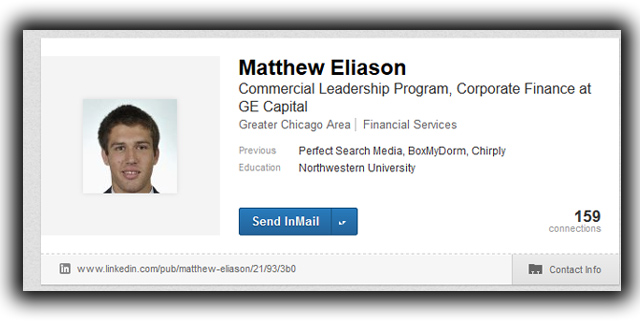 It is difficult for anyone to steal the spotlight from Barcelona star Lionel Messi. But in a charity soccer game Saturday in Chicago hosted by Messi himself, the world's best player was shown up by a financial analyst from GE Capital.
Matt Eliason, a former Northwestern player who tried unsuccessfully to make an MLS roster, took a pass from ex-Arsenal/Barcelona star Thierry Henry and scored on an utterly spectacular bicycle kick, gaining him instant Internet fame in the sports world.
Eliason became the man that showed up the best soccer player in the world at his own event and earned the #1 spot on SportsCenter's Top 10 Plays.
It was a nice 15 minutes of fame, but now he is back to a normal life of anonymity in his cubicle.
Only, that is not quite the case as Eliason's 15 minutes of fame has been extended to 53,280 minutes and counting with no signs of slowing down. And now he has a chance to revive his deceased professional soccer dream that had admittedly flatlined nearly two years ago with an invitation to go on trial with the New York Red Bulls of Major League Soccer where he will join their reserve team for a week long trial (starting this week) in hopes of garnering a first team contract in 2014.
He even got a chance to reconvene with the guy who played him the ball on the famous bicycle kick, Henry, as a VIP at a recent Red Bulls game where Henry, an international soccer superstar, shared with Eliason that a young man who the Red Bulls were hosting for the Make-A-Wish Foundation asked Henry if he knew Matt Eliason. Think about that for a second.

Lost in all of the fan fare that came with the bicycle kick was that the GE Capital financial analyst had a strong game as a whole and a truly amazing backstory.
Eliason didn't just do the bicycle kick then lose every other ball. He scored another goal as well, drew a penalty kick, held the ball up top and made sound runs off of the ball. Sure, these international superstars weren't playing as if they were in Rio de Janeiro for next summer's World Cup, but they were still out there competing for the most part (and making me look silly). Former Real Madrid player and current ESPN soccer analyst, Santiago Solari, who played in the Messi & Friends match, said, "I don't know how long it's been since he [Eliason] has played football, but for the little I saw, with some good training he can play in any professional team there in USA. NOT BECAUSE OF HIS GOAL! That's anecdotal." Solari continued exclaiming, "He can play because he has clever movements, has a good support game, pushes the defenders back seeking the depth, is physically strong, fast and, mostly of all, he seems to really, really love the game."
After all, the Red Bulls, who are a first class organization in the MLS, aren't doing this as a PR stunt because he has three million hits on YouTube, they saw Eliason showed overall talent that may have been overlooked at the MLS combine in 2011 and are giving him a legitimate shot to prove his worth with the reserves.
Now, Eliason has an opportunity to be the unprecedented student-athlete that went pro in something other than sports for two years and then went pro in sports. The dream is back from the dead, can Eliason ride the wave from GE Capital to Major League Soccer?   It's a great story about a kick and a local boy from Chicago who almost never got a chance to take his shot.
Eliason is no stranger to being overlooked and is relishing this second opportunity to try-out professionally. "I'm itching to get back out on the field and compete," said Eliason, who has been doing his own rigorous two-a-days regimen sandwiched around his work schedule.
He was overlooked by all 205 Division I soccer programs including Northwestern as a high school prospect. The Wildcats all-time leading scorer nearly never got the opportunity to don the purple and white. When he was a senior in high school, he had exactly zero scholarship offers so he started taking matters into his own hands and recruiting schools. He eventually got DePaul and Colgate to offer him a preferred walk-on spot to their teams, but he wanted to go to Northwestern. Only Northwestern didn't want him, not even as a walk-on.
But, he continued to beg head coach Tim Lenahan for a chance and showed up for every camp imaginable. Finally, Lenahan relented and agreed to go watch one of Eliason's Glenbard East high school games. Except Eliason got a red card in the first half which seemed to all but end Eliason's recruitment of Northwestern. Luckily for Eliason and the Wildcats, a fortuitous weather forecast predicted a storm was on the way that day so Lenahan didn't end up making the trip to the game thinking it would get cancelled and never found out about the red card. There would probably be a different all-time leading scorer at Northwestern now if not for that storm as Lenahan has a strong disdain for poor discipline where he runs a program that mandates tucked in shirts and black shoes only and sees red cards as a soccer sin.
Eliason got a second chance and the game Lenahan actually did attend, he did what he does best, put the ball in the back of the net multiple times. Eventually, Eliason had shown enough soccer skills for Lenahan to offer him a spot as a preferred walk-on beg-on.
Beg-on or not, Eliason stormed out of the gates his freshman season, winning an unlikely starting spot then starting every single game while tallying five goals and six assists, but was a glaring snub for the Big Ten All-Freshman team.
Determined to prove the haters wrong, Eliason put together a strong summer with the Chicago Fire U-20 team leading them to the National Championship scoring 6 goals in 5 games to win the golden boot despite not starting a single game.
So, Eliason returned to Northwestern in top form only to find himself starting the season as a reserve in a "Manu Ginobli" role. That put another chip on his shoulder and that reserve role wouldn't last past game two as he began to prove that he was one of the best players in the Big Ten as a sophomore scoring 12 goals, leading the conference in game-winners with six and garnering 1st Team All-Big Ten honors.
His junior season brought more of the same, tallying 13 goals and earning another 1st Team All-Big Ten distinction. While the MLS seemed inevitable at this point, he still stepped up his game in the classroom with an Academic All-American nod because after all, there are over 360,000 NCAA student-athletes and just about all of us go pro in something other than sports. However, Eliason was projected to get picked in the 2011 MLS SuperDraft going into his senior year.
The stage was set for a huge senior season. The team was ranked in the top 10 in the country, Eliason was a preseason All-American and on the Hermann Trophy (Soccer Heisman) Watchlist.
Things didn't quite play out as planned, though. The team stumbled, missing the NCAA tournament for the first time in four years and Eliason lost the goal scoring magic tallying only 3 goals, despite becoming the school's all-time leading goal-scorer, in a more withdrawn role to due to the personnel on the team. Scouts then passed him over for the MLS combine until a spot opened up and Eliason got the late invite as an injury replacement. An untimely injury slowed him at the combine, but it was believed that he had shown well enough to at least be a Supplemental Draft pick if he slipped out of the SuperDraft. 54 picks went by in the SuperDraft without his name being called and then 51 more times in the Supplemental Draft with the hometown Chicago Fire saying no thanks five times and even the New York Red Bulls, who have called him in for the trial,forfeiting the 101st pick in the draft rather than giving him a shot.
Eliason didn't give up though and kept training, eventually earning a try-out a couple months later with Sporting Kansas City. Another unfortunately timed injury, this time a little more serious, kept him from being able to participate at all and his try-out spot was infamously given to the artist formerly known as Chad Ochocinco who ensuingly made a mockery of the game.
And on that note, Eliason's professional soccer hopes were officially over and he had accepted the reality that a 9 to 5 was his destiny. "After a couple unfortunate events and once I got the GE offer, the time seemed right to hang up the cleats, although I never stopped loving the game." Eliason said, "But the Messi & Friends game has opened the door to give it another shot and I want to take advantage of this once in a lifetime opportunity".