Horse Masseuse
Even horses fancy a rub down once in a while. Great for relieving equine stress, and post-injury rehabilitation. This position is perfect if you love horses, and you're a hands-on person. However, it will require a degree of training. Nobody wants a hoof to the head.
Golf Ball Diver
Ever wonder what happens to all the golf balls you hit into the water hazard? Professional golf ball divers can gather thousands of stray balls in one day, and then sell them back to golf clubs and retailers. According to an article on ESPN, an estimated 120,000 balls per year will "get wet" on the 17th hole of TPC-Sawgrass alone. Can be dangerous (snakes, alligators, angry birds), and there's little to no visibility while working. On the plus side, at least you're not a caddy.
Scoreboard Operator @ Fenway
Elias, 37, is a sales director for Live Nation, a concert promoter, by day, and the operator of one of the two original, manually operated scoreboards in baseball (Wrigley Field has the other) the rest of the time. Standing in the seven-foot wide cement bunker that has been his workplace for 20 years, not far from where a scoreboard forbearer scrawled X's on the wall to keep track ofTed Williams' homers in 1951 (under the heading "The Kid"), he took in his cramped, laughably low-tech confines (there isn't even a toilet) and peered through one of the one-inch-wide slits in the Monster. It's where Elias and his two lieutenants, Brian Bemis and Nate Moulter, watch the ballgame, far below Lansdowne St., recording current history by hand.
Ski Slope Illustrator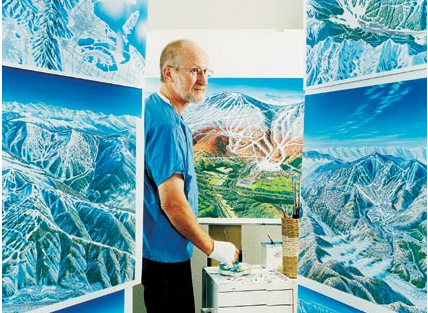 Fortune Magazine has also done some investigating and sure enough there is someone out there who has to draw those trail maps on the ski slopes around the world. Meet James Niehues, 60, resort and panoramic illustrator, Loveland, Colo.