GAME FACES                       
This short film anthology will explore the outer rim of the sports world to produce compelling portraits of the people who live there.  By alluding to the concept of creating portraits in the series title, GAME FACES, we establish a broad unifying theme that allows latitude in tone and subject matter while never betraying the core GAME FACES concept: These are postcards from the edge of athletics- born from a local community like Chicago or Los Angeles, but with an appeal that transcends the market and plays nationally.
SAMPLE STORIES :
*** Please note: Any video links included here are strictly intended be seen as references, never indicative of intended production value, style, or tone.  We reference existing video to help communicate the larger idea. Of course, securing subject's participation is be predicated on a production green light and has yet to occur. ____________________________________________________________________________________________________________________
JAMES GOLDSTEIN: BALLER
James Goldstein is one of those people you always see around, but you don't really know what he does. Fans who watch the NBA religiously see him sitting courtside every season.
Editors, publicists, and stylists have seen him sitting front row at fashion shows for the past 30 years.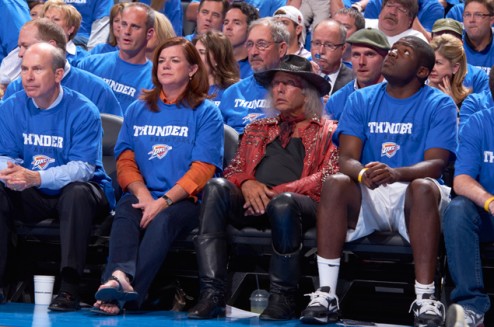 To the NBA, he's the courtside super fan who's traveled to thousands of games. To fashionistas, he's an over-the-top fop, a style symbol. To lovers of LA architecture, he's the guardian of the renowned Sheats-Goldstein house, built in 1963 by architect John Lautner and used in music videos and movies–most memorably in Joel and Ethan Coen's The Big Lebowski. His business card is twice the size of an ordinary business card, but that's in keeping with James Goldstein's outsized life.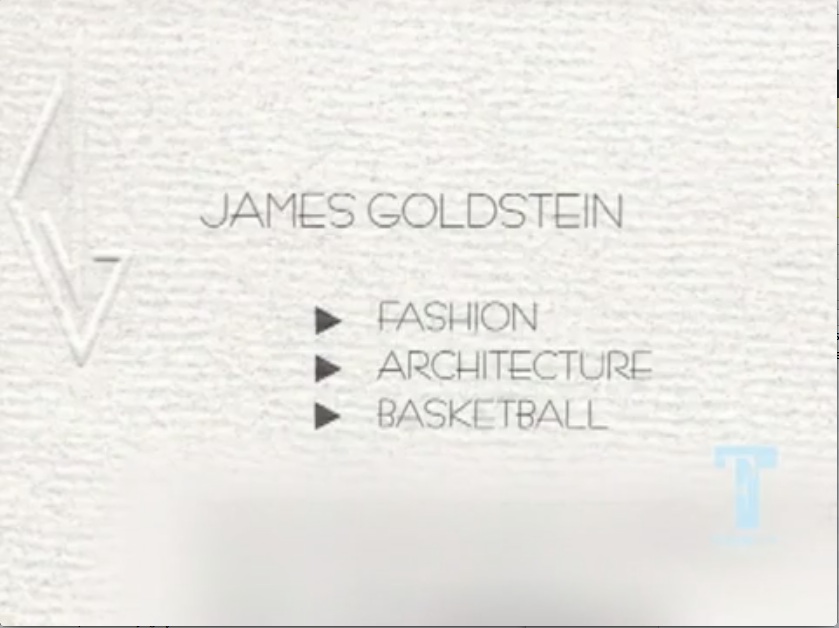 He's become something of a cult figure and has even been featured in French Vogue and been profiled in Interview magazine. He is the king of in a bizarro-land of his own making.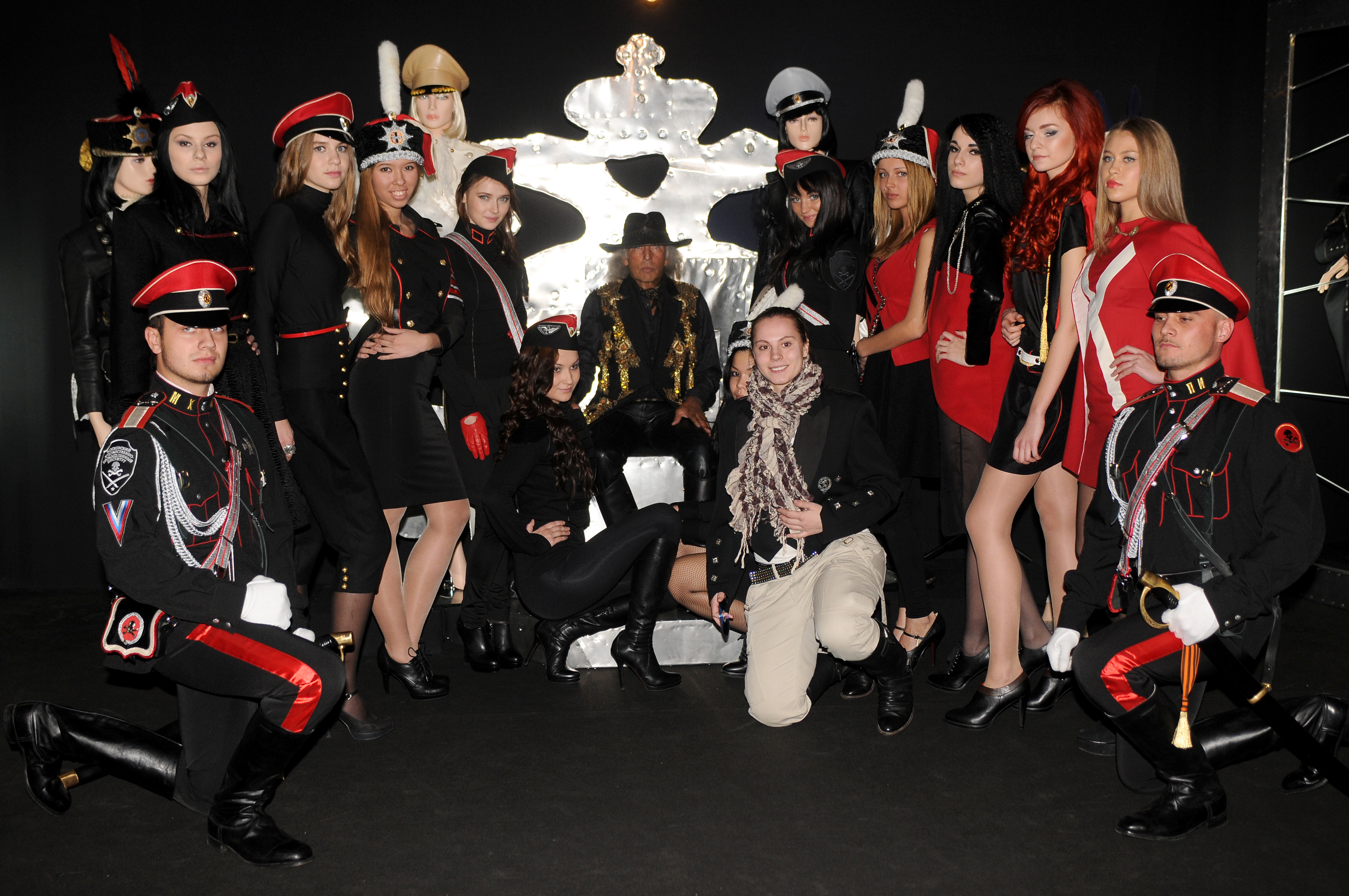 Dwyane Wade celebrated his 31st birthday on the day of an away game against the Lakers, strolling into the Staples Center wearing a Clipper-red suit by the edgy young British designer A. Sauvage. But it wasn't the nouveau Savile Row threads that NBA fashion heads clucked over on Twitter: It was the T-shirt underneath, emblazoned with the crinkly visage of Jimmy Goldstein.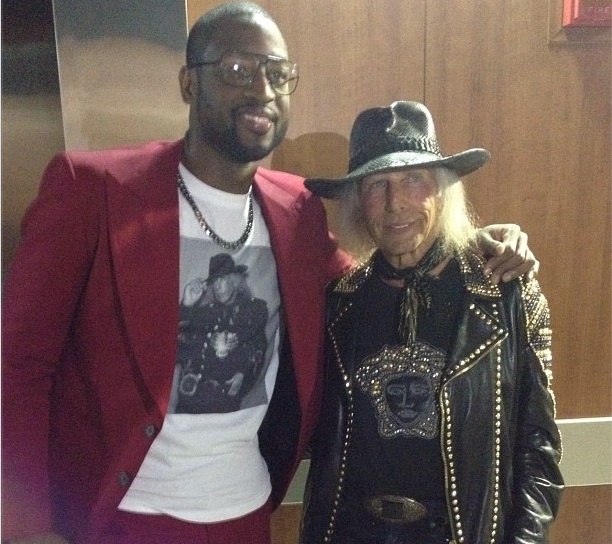 Lakers antagonist, Big Lebowski trivia answer, and longtime NBA courtside fashion icon, Goldstein can be spotted like a neon-fur trimmed Where's Waldo in Versace at every Lakers or Clipper game throughout the regular season and most big play-off series come spring.  Forget the Dos Equis dude, Goldstein might just be the most interesting man in the world.
What we do know about him is that he's somehow very, very rich (see: his house) and he's extremely passionate about two things: fashion and basketball. In fact, Goldstein first came into the public eye for being the "largest investor in NBA tickets in the world." He's been court side at every important Lakers game for decades. For the past several decades—nobody's sure exactly how many, and Goldstein isn't saying—he has traveled from his home in Los Angeles to New York, London, Milan, and Paris to view the international fashion collections, and he has become a fixture at the events and parties that surround them. His home in L.A. is one of architect John Lautner's legendary residential properties and has appeared in movies like The Big Lebowski (1998) and Charlie's Angels: Full Throttle (2003). He has also been a Lakers season-ticket holder since the team moved to L.A. in the early '60s, and spends the better portion of the basketball season traveling around the country to attend games in different cities. David Stern has said of him… "James Goldstein is our largest investor in NBA tickets in the world." As Goldstein's lifestyle would attest, he is a man of considerable means, but he is cagey about how he made his money or what motivates him, which has spawned a variety of theories about him. Actually, no one really knows for sure what Goldstein does, or how he made his money. Rumors about his past, according to a profile in Interview, run the gamut–that he "made a fortune selling trailer parks" or that he "once had an affair with a famous Hollywood pinup." Both Interview and Another suggest that Goldstein's fortune comes from real estate investments. Goldstein, however, won't confirm the reports; he likes the mystery. We may not be able to live like him, but we soon will be able to dress like him. Later this month at Milan Fashion Week, he will debut his own collection.
He is familiar to millions… but truly known by no one.  Until now…
Goldstein has been the subject of endless fascination, but he's never been the subject of a proper documentary project that aims to uncover who James Goldstein really is. This is the opportunity.
____________________________________________________________________________________________________________________
LOS ANGELES CHESS BOXING CLUB

Chessboxing is a new sport in which one 3-minute round of chess is followed by one 3-minute round of boxing and then back to the same chess game against the same opponent. Whoever wins by either checkmate or in the ring first WINS!  It's the ultimate combination of  brain meets brawn.
A bout includes five rounds of boxing and six rounds of chess in rotation, with chess first, then boxing, and so on. Winners can be declared by checkmate, knockout or judge's decision. The LA Club is the sport's first major inroad in America after seeing considerable growth in Germany.
____________________________________________________________________________________________________________________
THE GHOSTS OF 1984

Until the 1960s, public murals in Los Angeles were rare and isolated displays of commemoration and appreciation.  But, in the 60s and 70s, young L.A. artists began to look at the early 20th-century Mexican mural movement.  Great artists like David Siqueiros, Diego Rivera, and Jose Orozco helped inspire a new generation of muralists such as Kent Twitchell, Judith Baca, and Alonzo Davis. Soon, the murals became a signature of the city's cultural expression and social change, often reflecting L.A.'s ethnic diversity.  In the early 80s, L.A. mayor Tom Bradley, a mural enthusiast, commissioned 47 murals along the Los Angeles freeways for the 1984 Summer Olympics.

Over the years, pollution and neglect have brought them to the edge of extinction.  Today, Los Angeles is embarking on a U.S. $1.7 million project to restore the city's murals; the restorations began last month.  The video below depicts the restoration of a mural by a private non-profit last year.  It lacks production value but points to the promise of what a more robustly produced short might evoke.
So far, 16 walls have been selected, and more may be added in the fall. Among the murals to be restored now is Kent Twitchell's "Seventh Street Altarpiece," which he painted in 1983 as part of the Olympics series. This striking work, familiar to many L.A. commuters, depicts two local artists facing each other on opposite sides of the 110 Freeway at the 7th Street exit, near downtown Los Angeles. Our film would be driven by interviews with famous local street artists like Mr. Brainwash & Shepard Fairey who would provide contemporary context about and broaden local stories appeal. ____________________________________________________________________________________________________________________
THE SHOT HEARD AROUND THE WORLD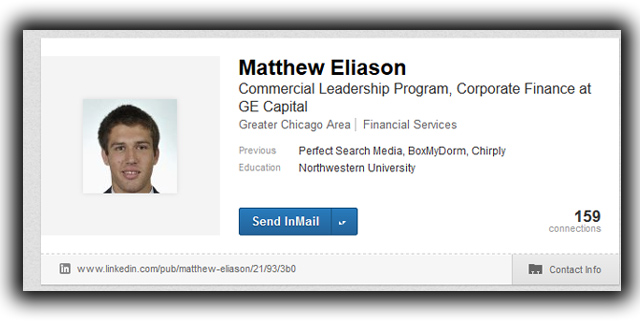 It is difficult for anyone to steal the spotlight from Barcelona star Lionel Messi. But in a charity soccer game Saturday in Chicago hosted by Messi himself, the world's best player was shown up by a financial analyst from GE Capital.
It was a nice 15 minutes of fame, but now he is back to a normal life of anonymity in his cubicle. Only, that is not quite the case as Eliason's 15 minutes of fame has been extended to 53,280 minutes and counting with no signs of slowing down. And now he has a chance to revive his deceased professional soccer dream that had admittedly flatlined nearly two years ago with
an invitation to go on trial with the New York Red Bulls of Major League Soccer
where he will join their reserve team for a week long trial (starting this week) in hopes of garnering a first team contract in 2014. He even got a chance to reconvene with the guy who played him the ball on the famous bicycle kick, Henry, as a VIP at a recent Red Bulls game where Henry, an international soccer superstar, shared with Eliason that a young man who the Red Bulls were hosting for the Make-A-Wish Foundation asked Henry if he knew Matt Eliason. Think about that for a second.

This is another prime example of a story born from a Tribune market that has much, much broader appeal.
Lost in all of the fan fare that came with the bicycle kick was that the GE Capital financial analyst had a strong game as a whole and a truly amazing backstory. Eliason didn't just do the bicycle kick then lose every other ball. He scored another goal as well, drew a penalty kick, held the ball up top and made sound runs off of the ball. Sure, these international superstars weren't playing as if they were in Rio de Janeiro for next summer's World Cup, but they were still out there competing for the most part (and making me look silly). Former Real Madrid player and current ESPN soccer analyst, Santiago Solari, who played in the Messi & Friends match, said, "I don't know how long it's been since he [Eliason] has played football, but for the little I saw, with some good training he can play in any professional team there in USA. NOT BECAUSE OF HIS GOAL! That's anecdotal." Solari continued exclaiming, "He can play because he has clever movements, has a good support game, pushes the defenders back seeking the depth, is physically strong, fast and, mostly of all, he seems to really, really love the game." After all, the Red Bulls, who are a first class organization in the MLS, aren't doing this as a PR stunt because he has three million hits on YouTube, they saw Eliason showed overall talent that may have been overlooked at the MLS combine in 2011 and are giving him a legitimate shot to prove his worth with the reserves. Now, Eliason has an opportunity to be the unprecedented student-athlete that went pro in something other than sports for two years and then went pro in sports. The dream is back from the dead, can Eliason ride the wave from GE Capital to Major League Soccer?   It's a great story about a kick and a local boy from Chicago who almost never got a chance to take his shot. Eliason is no stranger to being overlooked and is relishing this second opportunity to try-out professionally. "I'm itching to get back out on the field and compete," said Eliason, who has been doing his own rigorous two-a-days regimen sandwiched around his work schedule. He was overlooked by all 205 Division I soccer programs including Northwestern as a high school prospect. The Wildcats all-time leading scorer nearly never got the opportunity to don the purple and white. When he was a senior in high school, he had exactly zero scholarship offers so he started taking matters into his own hands and recruiting schools. He eventually got DePaul and Colgate to offer him a preferred walk-on spot to their teams, but he wanted to go to Northwestern. Only Northwestern didn't want him, not even as a walk-on. But, he continued to beg head coach Tim Lenahan for a chance and showed up for every camp imaginable. Finally, Lenahan relented and agreed to go watch one of Eliason's Glenbard East high school games. Except Eliason got a red card in the first half which seemed to all but end Eliason's recruitment of Northwestern. Luckily for Eliason and the Wildcats, a fortuitous weather forecast predicted a storm was on the way that day so Lenahan didn't end up making the trip to the game thinking it would get cancelled and never found out about the red card. There would probably be a different all-time leading scorer at Northwestern now if not for that storm as Lenahan has a strong disdain for poor discipline where he runs a program that mandates tucked in shirts and black shoes only and sees red cards as a soccer sin. Eliason got a second chance and the game Lenahan actually did attend, he did what he does best, put the ball in the back of the net multiple times. Eventually, Eliason had shown enough soccer skills for Lenahan to offer him a spot as a preferred walk-on beg-on. Beg-on or not, Eliason stormed out of the gates his freshman season, winning an unlikely starting spot then starting every single game while tallying five goals and six assists, but was a glaring snub for the Big Ten All-Freshman team. Determined to prove the haters wrong, Eliason put together a strong summer with the Chicago Fire U-20 team leading them to the National Championship scoring 6 goals in 5 games to win the golden boot despite not starting a single game. So, Eliason returned to Northwestern in top form only to find himself starting the season as a reserve in a "Manu Ginobli" role. That put another chip on his shoulder and that reserve role wouldn't last past game two as he began to prove that he was one of the best players in the Big Ten as a sophomore scoring 12 goals, leading the conference in game-winners with six and garnering 1st Team All-Big Ten honors. His junior season brought more of the same, tallying 13 goals and earning another 1st Team All-Big Ten distinction. While the MLS seemed inevitable at this point, he still stepped up his game in the classroom with an Academic All-American nod because after all, there are over 360,000 NCAA student-athletes and just about all of us go pro in something other than sports. However, Eliason was projected to get picked in the 2011 MLS SuperDraft going into his senior year. The stage was set for a huge senior season. The team was ranked in the top 10 in the country, Eliason was a preseason All-American and on the Hermann Trophy (Soccer Heisman) Watchlist. Things didn't quite play out as planned, though. The team stumbled, missing the NCAA tournament for the first time in four years and Eliason lost the goal scoring magic tallying only 3 goals, despite becoming the school's all-time leading goal-scorer, in a more withdrawn role to due to the personnel on the team. Scouts then passed him over for the MLS combine until a spot opened up and Eliason got the late invite as an injury replacement. An untimely injury slowed him at the combine, but it was believed that he had shown well enough to at least be a Supplemental Draft pick if he slipped out of the SuperDraft. 54 picks went by in the SuperDraft without his name being called and then 51 more times in the Supplemental Draft with the hometown Chicago Fire saying no thanks five times and even the New York Red Bulls, who have called him in for the trial,forfeiting the 101st pick in the draft rather than giving him a shot. Eliason didn't give up though and kept training, eventually earning a try-out a couple months later with Sporting Kansas City. Another unfortunately timed injury, this time a little more serious, kept him from being able to participate at all and his try-out spot was infamously given to the artist formerly known as Chad Ochocinco who ensuingly made a mockery of the game. And on that note, Eliason's professional soccer hopes were officially over and he had accepted the reality that a 9 to 5 was his destiny. "After a couple unfortunate events and once I got the GE offer, the time seemed right to hang up the cleats, although I never stopped loving the game." Eliason said, "But the Messi & Friends game has opened the door to give it another shot and I want to take advantage of this once in a lifetime opportunity". ____________________________________________________________________________________________________________________
L.A. LAW… (L

ADY

 A

RM

W

RESTLING!

)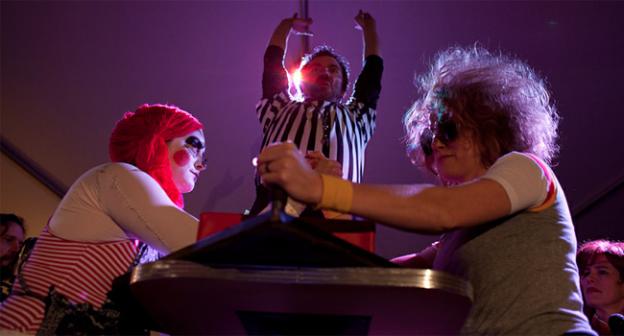 LOS ANGELES  — Hollywood might be the only place in the world where you can see a chain-smoking redneck mamma deliver a baby on stage during an arm wrestling tournament. This isn't just any arm wrestling tournament, though. It is LA LAW, the catchy, if copyright-challenging, acronym for Los Angeles Ladies Arm Wrestling.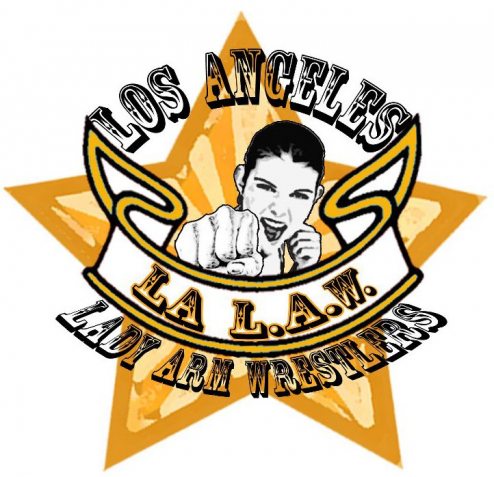 The organisation began in Charlottesville, Va. in 2007, and there are now seven official leagues and three apprentice leagues around the U.S. The national the Collective of Lady Arm Wrestlers, or CLAW U.S.A., clawusa.org is in discussions to start new chapters in Holland and Ireland.  As yet, there are no plans include the sport in the next Olympics.
"We're trying to expand for people what theater can be," said Howie Cohen, a local actor (of course) who says attending LA LAW is as rewarding as going to a hockey game.
Ladies' arm wrestling is difficult to categorize: an evening could be described equally as radical performance art, a burlesque variation on amateur boxing, or as a riot grrrl fundraiser with a costume competition attached. At a ladies arm wrestling "Superbrawl" event in New Orleans recently, for example, there were women in leotards, nuns' outfits, with moustaches, with blackened teeth, flexing their muscles. There were also a few women actually arm wrestling.
A woman by the name of Jennifer Tidwell launched the Collective of Lady Arm Wrestlers four years ago after her husband died as an offshoot of the roller derby scene in Charlottesville, Virginia. As these pioneers left Virgina, they took the spirit of the sport with them. They founded leagues in other cities, including NYC, Chicago, Austin, and L.A. CLAW just went global with leagues popping up in Australia and Brazil. In turns out that CLAW is a grassroots movement with a mission to empower women. By turns dead serious and playfully theatrical, the various leagues have raised more than $100,000 for local charities supporting women over the last four years. "Each city has a different character and it depends on the ethos around it," said Amanda McRaven, who is a theater director and college professor when she isn't calling the shots at LA LAW. "We tend to be one of the more theatrical leagues." This being a city where every third person is either an aspiring actor or struggling screenwriter, all of the competitors are actresses and dancers. And that's what makes it so damn weird. Imagine Lucha Libre or the WWE with performance artists and you have an idea of the insanity. The difference, though, is this wresting is real. Check out the :40 second mark in the video below from another chapter where a girl gets her arm broken.
There are eight theater groups battling it out, and each sends its "toughest bitch" – their term, not ours – to do battle. They include the Acid Queen, the Velvet Hammer, the Technician, the Germinator, Trewly Skrumchous and Ladystache, Madame Murder, and The Barberess of Seville & Barber Babes.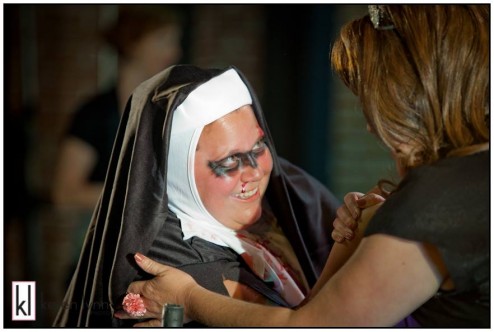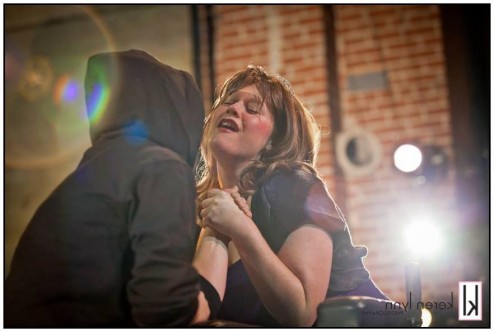 Supervising this event — or, rather, attempting to ensure no one broke an arm — was Lori Cole, a 12-time arm wrestling world champ who has collected 150 state and national titles in 22 years. Yep, she's an OG.
Just to make it clear, the arm wrestling is real. The competitors take it seriously, because everyone is wrestling for charity. The prize money is donated, and the crowd buys "CLAW bucks" that can be applied to stunts, shots and snacks. You can even pay for something called a "boob sandwich" served up by Lauren Oppelt aka "Lottë Bootay." We'll just leave it at that and let your imagination run wild. LA LAW is just starting out. The plan is to get together every four months. The next event is scheduled for Nov. 18th @ The Bootleg Theater.
____________________________________________________________________________________________________________________
RALLY BEAR
One moment, he was a sensation. The next minute, he was a cause celeb.
The moment came as the Dodgers fought their way to a 3-0 win over the St. Louis Cardinals in Game 3 of the NLCS. In the bottom of the eighth inning, during a pitching change, Rally Bear jumped out of his seat dressed in a bear costume and rushed on top of the Cardinals' dugout.
He then waved his hands wildly, clapping to get the crowd hyped up and tried to do a jump into splits — twice — before being pulled away by security personnel.
You gotta love a dude in a bear suit catching air like that and nailing the splits on the enemy dugout.  Officially, the Dodgers weren't exactly impressed- banning Rally Bear from the stadium for 6 months.  Even though the crowd — which included actor Dustin Hoffman — was totally transfixed.
Baseball is strange. A fan trying to be an amateur mascot can get banned from the stadium (we've seen it in Chicago too), but a fan who shows some belly can become a team's good-luck charm? This wasn't about causing a disturbance or getting attention for himself,  he was trying to make a point: The Dodgers need a mascot. They're one of only four MLB teams that doesn't have one. And no, Yasiel Puig, doesn't count, no matter how many times he flails his arms around. Local reporting showed that this mysterious bear is in fact a grown man named Mark Monninger, a 50-year-old furniture store owner from Rancho Cucamonga.
And yet, now that his 15 minutes have come and gone, questions remain. What does a day in the life of this wanna be hero look like? Will the bear emerge from hibernation in time for opening day? Rally Bear's 6 month ban ends in the spring. GAME FACES will be there to find out.
____________________________________________________________________________________________________________________
ARENA ROCK
Los Angeles has not seen professional football since two arena franchises folded before the league canceled its 2009 season. Both Los Angeles-based NFL teams left the city after the 1994 season. Now, the guys dressed in black and silver are bringing football back to the Los Angeles area. The Raiders? Not quite.
Two weeks ago, the Arena Football League announced it was awarding an expansion team to a group of individuals that includes KISS band members Gene Simmons and Paul Stanley. The team, called the LA KISS, will begin playing in March at the Honda Center in Anaheim. This is an opportunity to track the birth of a local team with international appeal- and document Kiss' involvement from uniform/logo design (!) to cheerleader auditions (!!) to arena pyrotechnics (!!!)… 
"The whole idea of an alternative to what has perhaps become a corporate sport is very intriguing, and resonates with us," Stanley told USA TODAY Sports by phone on Wednesday. "We've always tried to be a band that relates to everybody, and the AFL is built on that whole premise." Though the band's logo will be incorporated into the team's uniforms, and though Stanley and Simmons hope to bring their understanding of live performance to the team's home games at the Honda Center, the pair emphasized that they aim to create a true football experience. "There's been a lot of attention to detail, to nuances, so that people don't think this is a rock band in football helmets," Simmons said. "This is real football, and this is good for the game." Added Stanley: "We wouldn't put LA KISS on a football helmet if we didn't believe we could kick it out of the park."
KISS says they will run the team in conjunction with veteran AFL executive Brett Bouchy, who recently sold his interest in the Orlando Predators.
"We don't want to wear too many hats," Stanley said. "When it's appropriate, we will defer to the people who have experience with this. We're bringing something new to the party." "We're not going to be passive players in this," Simmons added. "We're really going to be a part of this thing." Asked if the new AFL owners will endorse their team's players wearing eye-black and face paint indoors, Stanley said, "We'll leave that to the people who are better suited to make those decisions. But I personally think a little black under the eye looks very good."