L.A. LAW… (L

ADY

 A

RM

W

RESTLING!

)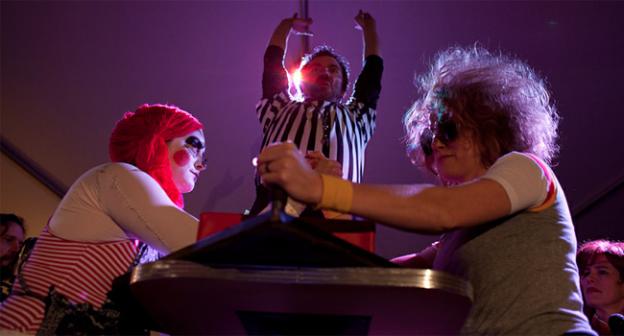 LOS ANGELES  — Hollywood might be the only place in the world where you can see a chain-smoking redneck mamma deliver a baby on stage during an arm wrestling tournament. This isn't just any arm wrestling tournament, though. It is LA LAW, the catchy, if copyright-challenging, acronym for Los Angeles Ladies Arm Wrestling.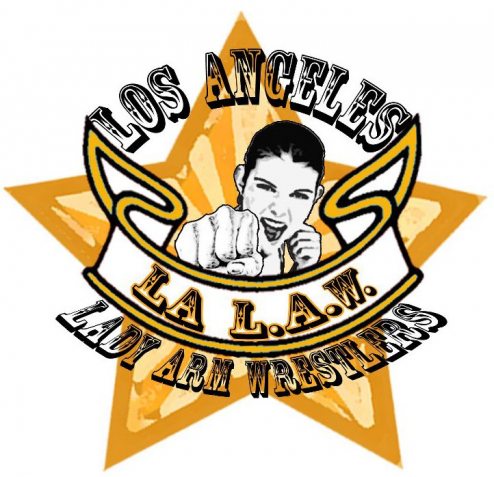 The organisation began in Charlottesville, Va. in 2007, and there are now seven official leagues and three apprentice leagues around the U.S. The national the Collective of Lady Arm Wrestlers, or CLAW U.S.A., clawusa.org is in discussions to start new chapters in Holland and Ireland.  As yet, there are no plans include the sport in the next Olympics.
"We're trying to expand for people what theater can be," said Howie Cohen, a local actor (of course) who says attending LA LAW is as rewarding as going to a hockey game.
Ladies' arm wrestling is difficult to categorize: an evening could be described equally as radical performance art, a burlesque variation on amateur boxing, or as a riot grrrl fundraiser with a costume competition attached. At a ladies arm wrestling "Superbrawl" event in New Orleans recently, for example, there were women in leotards, nuns' outfits, with moustaches, with blackened teeth, flexing their muscles. There were also a few women actually arm wrestling.
A woman by the name of Jennifer Tidwell launched the Collective of Lady Arm Wrestlers four years ago after her husband died as an offshoot of the roller derby scene in Charlottesville, Virginia. As these pioneers left Virgina, they took the spirit of the sport with them. They founded leagues in other cities, including NYC, Chicago, Austin, and L.A. CLAW just went global with leagues popping up in Australia and Brazil. In turns out that CLAW is a grassroots movement with a mission to empower women. By turns dead serious and playfully theatrical, the various leagues have raised more than $100,000 for local charities supporting women over the last four years. "Each city has a different character and it depends on the ethos around it," said Amanda McRaven, who is a theater director and college professor when she isn't calling the shots at LA LAW. "We tend to be one of the more theatrical leagues." This being a city where every third person is either an aspiring actor or struggling screenwriter, all of the competitors are actresses and dancers. And that's what makes it so damn weird. Imagine Lucha Libre or the WWE with performance artists and you have an idea of the insanity. The difference, though, is this wresting is real. Check out the :40 second mark in the video below from another chapter where a girl gets her arm broken.
There are eight theater groups battling it out, and each sends its "toughest bitch" – their term, not ours – to do battle. They include the Acid Queen, the Velvet Hammer, the Technician, the Germinator, Trewly Skrumchous and Ladystache, Madame Murder, and The Barberess of Seville & Barber Babes.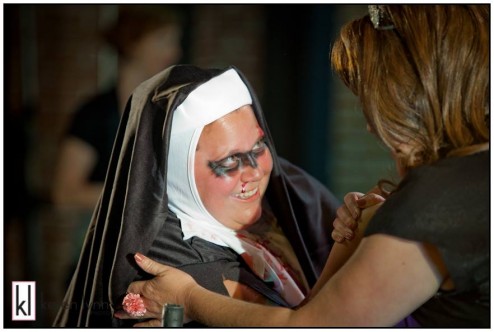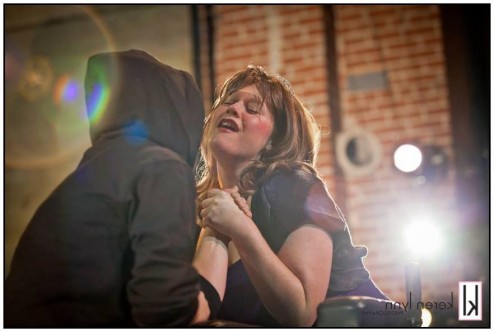 Supervising this event — or, rather, attempting to ensure no one broke an arm — was Lori Cole, a 12-time arm wrestling world champ who has collected 150 state and national titles in 22 years. Yep, she's an OG.
Just to make it clear, the arm wrestling is real. The competitors take it seriously, because everyone is wrestling for charity. The prize money is donated, and the crowd buys "CLAW bucks" that can be applied to stunts, shots and snacks. You can even pay for something called a "boob sandwich" served up by Lauren Oppelt aka "Lottë Bootay." We'll just leave it at that and let your imagination run wild. LA LAW is just starting out. The plan is to get together every four months. The next event is scheduled for Nov. 18th @ The Bootleg Theater.
____________________________________________________________________________________________________________________