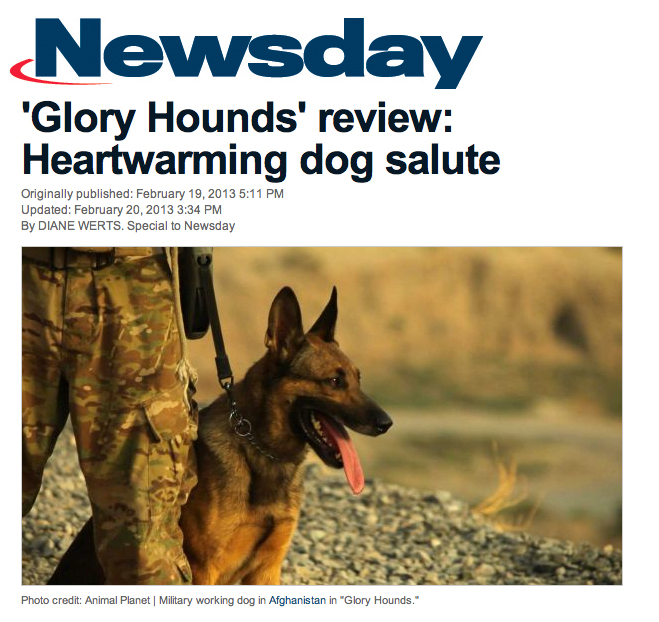 WHEN | WHERE Premieres Thursday night at 8 on Animal Planet
REASON TO WATCH So you love animals, but you've seen too much too-cute and too many monsters from hell? Here's the TV tonic — military working dogs who will make you salute, before they rip your heart out.
WHAT IT'S ABOUT It's a two-hour ride-along — patrol-along, really — with four teams of soldiers and their canine partners, hitting the ground in Afghanistan to sniff out improvised explosives and hidden humans. Narration tells us a dog like this "helped track down Osama bin Laden," but we're persuaded enough by seeing these dogs' daily duties.
And their relationships with their human handlers. Some lance corporals and staff sergeants look barely older than the pups with whom they've lived and trained to go "outside the wire" — leaving the "safety" of their desert military compounds in Kandahar and Helmand provinces to track insurgent fighters, destroy their hiding places and safely detonate buried explosives. That bond is the most important thing, as subjects Kent, Drew, Len and Durward tell the camera crews who've embedded with their units after special training. (Watch behind-the-scenes training "extras" here.)
The four teams' unfolding stories gradually weave a you-are-there tapestry of missions and downtime, helmetcam footage and  Skype-calls home, shocking blasts and nail-biting consequences.
Warning to vulnerable viewers: Halfway through the program, one team suffers a fatality. Soon after, another endures a grenade hit.
These filmmakers know what they're doing. Directors John Dorsey and Andrew Stephan (ESPN's "30 for 30" film "Pony Excess") delicately handle the disasters met — not just by the MWD teams but by their own sound and camera guys, who equally face a bloody tourniquet-and-prayer test.
They know how much to say, and show, to viscerally deliver the sights, sounds and even smells, without scaring us away. While Dorsey and Stephan lay careful groundwork for all that follows, they evoke emotions by playing it straight, letting warmth and poignancy develop on their own.
BOTTOM LINE By the time there are homecomings, you might feel a tear or two. And a smile or ten.
GRADE A