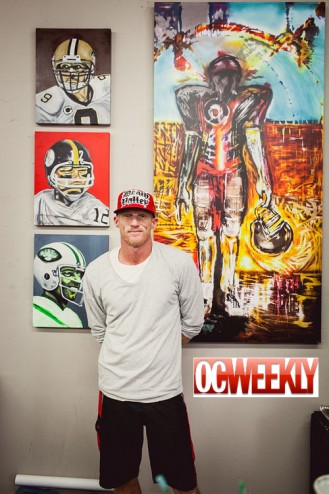 Marinovich, the former bad-boy Los Angeles Raiders quarterback, is still getting reactions to his art, which ranges from abstract pieces to more literal takes on famous athletes and music legends. An ESPNdocumentary released in December featured a stunning painting titled The Alchemist, an abstract piece on plexiglass that shows a shadowy football player emerging from bold orange and red hues that explode when light pierces through the plexiglass. Since the documentary's release, Marinovich has happily been overwhelmed by requests for original works.
"It's a fabulous thing I've never experienced," he says. "The shocking thing was the response from people all over the country." Marinovich seems almost mystified at the connection he's made with total strangers. "That was the hope," he explains, "that people would identify with it."
Marinovich will have his next gallery show on Saturday June 2 .
AND STILL presents MARINOVICH ART AND SPORTS NIGHT
Where: And Still (classic vintage sports wear) 114 LA BREA BLVD LA